Become more agile, more accurate, and more efficient with workflow automation
Lighten the load of those labor-intensive tasks, and get more output for your input with Descartes MacroPoint.
From carrier procurement to proof-of-delivery, our smart workflow automation capabilities can streamline your operations at multiple levels, allowing you to keep productivity up, for a fraction of the time and resources.
Get out what you put in, and more
Workflow automation means you can cut out the costs, time and disputes that often come with manual processes, and put your resources to better use.
Level up your productivity, accuracy and efficiency with workflow automations purpose-built to match the needs and objectives of your team.
Less effort, less error
Workflow automation saves you time, makes things more secure, and slashes the scope for error. Plus, the efficiency and productivity gains can scale up as you grow.
Efficiency made easy
Descartes MacroPoint is easy to use, and quick to deliver value. New users can get set up with little to no training at all.
Level up your customer service
With less time spent accounting for errors or on time-consuming manual processes, you'll have more time to focus on taking your customer service to the next level.
How it works
Getting started with Descartes MacroPoint is easy and seamless—no matter how complex your network, or how big your objectives. Our dedicated success teams make it simple.
Features
The data from our unbeatable global carrier network allows us to accelerate your shipment lifecycle, and bring new clarity and visibility to your supply chain operations.
Plus, our automation and workflow capabilities are as easy-to-use as they are effective. Once you put them in place, you can either modify as needed, or simply let our technology do the work for you.
Your logistics operations, digitized
We can help you transform your processes, trading in the hang-ups of manual data entry and other time-consuming tasks for AI-driven accuracy and efficiency.
Simpler tracking for all
Our system simplifies tracking by connecting all parties and processes, across all modes of transportation, and consolidating all the data into one reliable source.
Swift and secure documentation
Documentation processes are some of the most time-consuming in the business. Automated documentation will make your processes faster, easier and safer.
Carrier identification, without the guesswork
Our Good Truck API integration draws on the rich data from our carrier network to ensure you're definitely tracking the right carrier vehicle, every time.
Circle Logistics Success Story
"With the Descartes MacroPoint solution, we've eliminated check calls thanks to real-time tracking and automated alerts. Now we can keep customers informed about the exact location of their freight at any given moment, and free up our staff to focus on booking more loads. The result is more satisfied customers, more productive employees and continued growth for our company."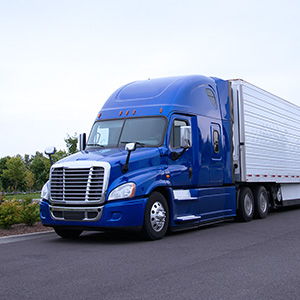 Andrew Smith
VP Sales and Operation, Circle Logistics
Learn more about our enterprise solutions
Descartes MacroPoint is purpose built to provide end-to-end visibility through every stage of the transportation journey, all from a single provider.