Work like a well-oiled machine with true supply chain visibility
When you're part of a complex global supply chain, and time is of the essence, you need your manufacturing operations to be visible, productive and working in sync.
Descartes MacroPoint can help manufacturers by unifying your multimodal networks, providing data-backed insight, and giving you complete visibility of all your shipments, whether they're moving by land, air or sea.
Solving your biggest challenges
Make smarter business decisions
Simplified carrier tracking and precise ETAs give you a better handle of your operations, so you can use your resources more intelligently—increasing productivity, lowering operating costs, and delivering a more competitive level of customer service.
Slash your carrier costs
Carrier detention fees are one of the biggest causes of loss in the whole manufacturing industry. By providing real-time visibility of when trucks are arriving at a particular dock or yard, Descartes MacroPoint helps you reduce congestion, and avoid those hefty fees.
Drive proactive decision-making
When materials don't arrive on time, the manufacturing line can grind to a halt. Precise, real-time freight data allows you to spot delays before they happen, and proactively work around them—increasing your efficiency, while minimizing your downtime.
Eliminate manual check calls
Across a whole manufacturing operation, using manual check calls to determine delivery status just isn't feasible. Descartes MacroPoint keeps you and your customers updated automatically, with live alerts and notifications.
Learn more about our enterprise solutions
Supply chains are complex, but that's our specialty. Speak with our experts to discover how we can power a more connected supply chain.
With Descartes MacroPoint
One provider, one platform, one process
All your logistics data and visibility processes: consolidated, consistent and manageable from one platform.
Unrivaled accuracy
Market-leading data quality gives you a clearer picture of performance.
Making you more productive, at every level
Improved labor planning, automation and spending allocation mean all your efforts go further.
Enhanced contingency planning and exception management
Identify and mitigate issues in advance with complete visibility and predictive ETAs.
Our features for the manufacturing industry
Real -Time Visibility Platform
Dock Appointment Scheduling
Ocean Visibility
Analytics & Intelligence
Workflow Automation
Steelcase Success Story
"Delivering a superior customer experience is what sets us apart in our industry. Extending real-time shipment visibility across the organization from our manufacturing facilities and distribution centers to our dedicated fleet and carrier partners is key to our exemplary service performance. With Descartes MacroPoint, we've been able to reduce load tracking time by 50%, provide faster response times to any shipment issues that may arise, and optimize our labor and capacity planning."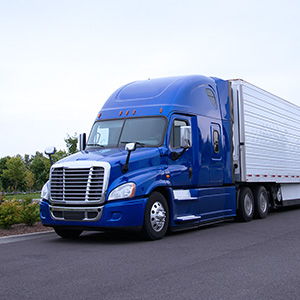 Joe Verbraska
Director, N.A. Transportation at Steelcase